Detached house for rent in Epoo
Next to the Competition Center!!
Distance to the Competition Center approx. 1.5 km, right after the tent/caravan fields, still in the complete peace of the countryside. 12 km from the center of Porvoo.
Detached house, 130 m2 fully equipped, the house has mechanical ventilation.
1. bedroom with 160 cm double bed
2. bedroom with 120 cm bed
3. bedroom with 120 cm bed
4. Fireplace/studyroom with 90 cm bed
5. Kitchen/living room with 90 cm bed sofa
Bed linen and towels are included in these beds. In addition, a 140 cm air mattress bed can be arranged. Guests can bring their own mattresses and bed linen if they wish. The number of guests is limited to a maximum of 10 people.
Fully equipped kitchen with dishes; induction cooker, oven, microwave oven, dishwasher, coffee maker, kettle, toaster.
On the south side of the house, a large terrace with a gas-powered Muurikka grill for guests to use. Dining set, table and chairs on the terrace.
Two toilets, one of which also has a bathtub. Wood-heated indoor sauna (ready-made logs for use by guests), with two showers in the washing room.
Not suitable for people with severe allergies. Normally, a large poodle lives in the house, which does not shed hair. There is a small stable for three horses in the courtyard.
The house is left clean for the guests and we hope for a normal clean condition after the stay.
Price 3200€/ 16-18.6.
Inquiries and bookings: kiki.riekkinen@kolumbus.fi, 040-7463 204
---
A terraced house in Porvoo for rent
A terraced house 2 km outside the center of Porvoo (Peippolankolmio) with two bedrooms (2 + 1 beds) + option to have mattress(es) on the floor. Well equipped kitchen, terrace and balcony, sauna, washing machine. Free parking on the street outside.
Good training terrain and the city's beach in the neighbourhood. 300 m to a grocery store (+pharmacy, health centre). About 12 km to the competition area.
The rent includes bed linen and towels for 3 persons. Cleaning 50€.
Rent: 250€ / day. Free to rent 12-18.6. More info: 0400 129457 or camilla.andelin@yle.fi
---
A cottage is offered for rent in Veckjärvi, Porvoo
The cottage is located about 7 km from the center of Porvoo, by a lake. In addition to the cottage, a separate guest room is available in the garage. In addition, a mobile home for 4 people is available for rent (for a separate fee).
The cottage has 2 bedrooms, 1 toilet, kitchen (dishwasher, electric stove), living room, shower (washing machine possible) and sauna with wood stove. One bedroom has a double bed and the other has a sofa bed for two. In the guest room there are sleeping places for two on a pull-out sofa bed. In addition, sleeping places can be added to the cottages living room or guest room with mattresses. The host can offer a total of three additional mattresses to either the cottage or the guest room, if needed. It is also possible to bring own mattresses. With the help of additional mattresses, this place can accommodate about 10-12 people.
Possibility of swimming at own beach. A gas grill is also available.
Bed linen and towels are included in the price. The tenant is required to clean up after themself. In principle, no separate cleaning fee is charged.
A mobile home can also be rented Thu-Sun for an additional price of 400 €. The mobile home accommodates 4 people. This is only to be held in the cottages yard, and the cottages toilet, kitchen and shower facilities are included in the rent. The mobile home is only rented together with the cabin and the guest room.
Accommodation available for rent 15-18 June 2023 (Thursday-Sunday). Rent 1800 €. (+mobile home 400 €)
More information:
Carina Holkkola
0400-497833
---
A house in Porvoo Rita is offered for rent
The detached house is well located, near the Rita motorway exit.
The distance to the competition center is about 10 km and 3 km to the center of Porvoo.
The house has four bedrooms, two downstairs and two upstairs, three toilets, a kitchen and a living room, shower and sauna.
Downstairs there are beds 160 cm and 120 cm and upstairs there are two 80 cm separate beds and a 160 cm wide bed at floor level (no pictures of the upper floor). It is possible to arrange extra beds for a separately agreed compensation.
Available for rent during the competition weekend 16-18 June 2023, rent 1900 €
Bed linen and towels are included in the price.
A longer stay is also possible. Price negotiable.
Cars fit well in the yard. Possibility to park a caravan in the yard for 100 € during the competition weekend.
More information:
Timo Nurme Tel: 044 970 2712
---
We offer accommodation in the Porvoo archipelago,
Långholmen – Sondby
Distance: about 30 min / 20 km to the competition center.
Address: Långholminpolku 14 Porvoo
Accommodation on an 18-hectare archipelago farm on the island of Långholmen with road to the destination.
Good training grounds next door.
Rental period: Wed-Sun 14-18 June 2023 (additional days possible)
Two places available:
1.
A well-equipped villa by the sea, approx. 120m2 + sauna building
Villa facilities: upstairs hall + 2 bedrooms, downstairs kitchen, toilet and hall.
Accommodation: in the villa for eight and in the sauna room for two,
extra beds negotiable.
Rent: 7 600 €
2.
Accommodation building "Renkitupa" + beach sauna in the courtyard of the house.
Renkitupa approx. 120 m2, 7 bedrooms, kitchen, 2 toilets + shower.
Accommodation for 13 people.
Rent: 6 400 €
The properties have kitchens and gas grills.
The rent includes: sheets, towels and final cleaning.
The use of saunas is agreed separately.
Basically, it is not allowed to pitch tents or park mobile homes in the yards.
Catering possible, ask for more.
Inquiries and reservations: Mikko Perokorpi / 0400 460 430 /
tarja@porvoonmerisavu.fi
---
A detached house in Kevätkumpu, Porvoo, for rent.
We offer our house for rent. The detached house is located in a quiet area in Kevätkumpu, Porvoo. The distance from the competition area is approximately 10 kilometers (approx. 15 minutes by car). The distance to the center of Porvoo is about 3.5 kilometers.
Living area approx. 120m², fenced yard area, approx. 250m², which borders the forest area of the city of Porvoo. In the yard there is 1 carpark and there is possibility to park 2 more cars on the lot.
The house has 3 bedrooms and a guest room (not in the pictures). Ready-made accommodation is available for 6 people (one double bed, one sofa bed in the guest room, one 90 cm wide bed and a sofa in the living room). Additional beds can be arranged in the house for a separately agreed compensation. Additional beds arranged by the guests themselves are also allowed.
The house has a renovated kitchen and bathroom with an electric sauna. There is a toilet in the bathroom and a separate smaller toilet. The house also has an air heat pump that provides cooling. Possibility to use a gas grill on the terrace. Access to the terrace from the living room and the guest room. The house also has supplies for babies and toddlers (e.g. crib, high chair, sitter, toys, etc.)
It is possible to send photos of the yard area afterwards to those who are interested. The snow situation makes it difficult to outline the yard area in photos.
Price
12-18 June 2023 2500 euros
The price includes bed linen for the current beds and about 10 towels. The tenant is required to clean up after his own traces. No separate cleaning fee is charged.
Additional information and inquiries (primarily by email):
Toni Koskela
koskela.t89@gmail.com
0505413238
---
Private house Villa Valkoinen for rent
We rent our detached house during Jukola relay from 12-18 June or 16-18 June. Accommodation for approx. 13 people.
The old house is built at the beginning of the 19th century and is located in the peaceful countryside in Porvoo, Ilola, 25 km to the Epoo competition venue and about 30 minutes by car.
In the house you will find four bedrooms, two toilets, shower, sauna, dining room, kitchen, living room.
Beds 160 cm, 120 cm, 160 cm and 180 cm. In addition, one person can sleep on the couch.
Outside, a terrace with a covered pergola and the possibility of grilling, and a garden.
There is also a small building in the yard with sleeping places for three people (1 pc 80 cm bed and 1 pc 120 cm bed).
Price 12-18.6.  3500 €
Price 16-18.6.  3000 €
The price includes bed linen and towels.
For the final cleaning, we require that the house remains clean, but the actual cleaning is left to the renter.
We are happy to give you more information
Ninaj.lappalainen@icloud.com / 050-4047656 / Nina
---
We are renting a villa in Ylike for the Jukola weekend
Well-equipped seaside villa for 5–7 people (3 bedroom, 110 m2) in Ylike, 7 km (10 min by car) from the competition venue and 15 km (20 min by car) from the center of Porvoo.
Available for rent during the competition weekend 16-18 June 2023, rent 2500 euros + cleaning fee 150 euros, including towels and bed linen for 7 people and sauna wood and grill coals. You can arrive on Friday morning and the house is at your disposal until Sunday evening. Arriving on Thursday 15 June 2023 and renting during the training period between Mon-Fri can also be discussed.
The charming 1930s log house has just been completely renovated and equipped with modern amenities. The house has three bedrooms, one with a king-size double bed (180 cm), the second with a high-quality sofa bed (150 cm) and the third with a single bed (90 cm) + the possibility of a plush inflatable extra bed (140 cm). The equipment of the modern and spacious kitchen includes e.g. induction stove and oven, dishwasher, capsule coffee maker, fridge-freezer and complete set and cooking utensils. Inside the house, there is one bathroom with a toilet, a shower and a drying washing machine. In addition, guests have access to a wood-heated garden sauna, a compost toilet and a beach. In the garden there is a summer kitchen equipped with a charcoal grill and a gas stove. The villa is heated and cooled with air heat pumps. Wi-Fi is available for guests.
Inquiries and bookings:
Sini Sorainen, sini.sorainen@gmail.com, 040 039 7464
---
Cabins for rent by the sea at Rönnäs for 8 people (Kataja cabin)
Rönnäs is located 29km (30min) east of Epoo.
KATAJA (8 guests)
The Kataja cabin is located by the sea and with 63 m2 it provides space for relaxation for 8 guests.
The cabin has a cozy general area, a well-equipped and recently renovated open kitchen, and a nice
fireplace. The downstairs area has two bedrooms, which are both equipped with two beds and a shared
bathroom/shower/sauna area. The second floor accommodates 4 guests in a loft type of floor plan.
The cabin has its own 500 m2 yard that includes an equipped patio for dining and hanging out. The yard
also has 2 parking spots for cars. The cabin shares a swimming dock with other cabin owners/renters.
Bedsheets, towels, and general cleaning are included in the rental price.
Price during the Jukola race: 990 euros (15.6-18.6)
Ask for separate prices for the practice period!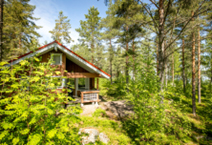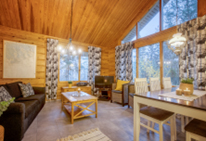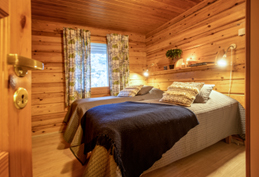 The seaside sauna
After a good practice or race, you and your friends might enjoy a traditional Finish sauna with an
beautiful view over the sea.
This gorgeous 150 square meter sauna building has its own spacious general area with an open kitchen.
The two big saunas and shower rooms guarantee that a bigger party can enjoy the sauna experience
together. Both saunas have access to the big patio where you can find two outside hot tubs, something
we in Finland call a "palju". From the dining area you can access one more patio that, like the other
patio, faces the beautiful sea.
The yard also has a covered barbequing are for a fun night of grilling.
The yard is suitable for parking multiple cars. The cabin shares a swimming dock with other cabin
owners/renters.
Price when renting a cabin: 660 euros/night + an additional 180 euros for hot tubs
Towels for 14 guests and general cleaning included in the rental price
More information:
Merihuvilat.fi
ravintolaronnas@gmail.com
Rasmus and Minna Svahn
+358 407379646
---
For rent by the sea cottage, saunacottage and a house during Jukola trainingseason and Jukola raceweek and -weekend.
OBS! This lodging is reserved during Jukola race week and weekend. You can ask for lodging during training season.
Beds for 6 persons in the cottage and easily 6 more on mattress. Fully equipped kitchen for 6 persons. In the kitchen there is dish-wascher, stove, micro, fridge, coffee- and kettlemakers. Bathroom has shower, toilet and washing machine. In sauna there is beds for 2. Sauna includes steamroom, shower and toilet.
The owners live on the same plot during the trainingseason. The plot is 1 hectare so yes we can all fit. Price during the trainingseason is 450€/weekend. Additional services are agreed upon separately. Final cleaning costs 45€.
During the Jukola raceweek the price for the whole place (cottage, sauna and the house) is 1600€ and Friday to Sunday 1200€.
If you want to rent the whole spot during the traningseason the price is negotiable. The house has bedroom, kitchen, office, toilet and bathroom. The house is fully equipped and sleeping places for 3 and 100 m2 to sleep on mattresses.
For more information please contact akermananttila@gmail.com