Kalevan Rasti is an orienteering specialized sport club in Joensuu, that was established in 1950. It concentrates on top orienteering, activities for youngsters, recreational orienteering events and organizing competitions.
In 2017, Kalevan Rasti will be organizing Joensuu-Jukola in Eno. Previously it has organized Jukolan viestis in Liperi in 1982 and 2000.
Kalevan Rasti has also won Jukolan viesti in the years 2004, 2005, 2007 and 2012-2014, and Venlojen viesti in 1979 and 1992. Its victories also include winning Tiomila in 1983 and 2010-2014 and the women's Tvåmila in 2001.
Kalevan Rasti is well-known for its expertise in mapping, course planning and coaching, which create the best orienteering surroundings in Finland to Joensuu.
The maps of Kalevan Rasti are made by Rauno Asikainen, Börje Vartiainen and Jussi Silvennoinen. Both Asikainen and Silvennoinen created the maps for the terrain parts for the WOC in Vuokatti. Silvennoinen also created the maps for Kuopio-Jukola and Luona-Jukola and is responsible of the mapping in Joensuu-Jukola. Asikainen is responsible of the maps in Lappee-Jukola.
Jussi Silvennoinen, Börje Vartiainen, Samuli Launiainen and Jarmo Tonder were responsible of the courses in the terrain parts of the WOC in Vuokatti.
The men's coach in Kalevan Rasti, Antti Harju (@PipoHarju) works as the youngster's coach for the Finnish Orienteering Federation in Tampere. Aside from that, Harju also coaches the adults national team. The women's coach, Jarmo Tonder (@JarmoTonder) also coaches the Finnish national orienteering teams youngster's talent group.
Orienteering for everyone in Joensuu
Kalevan Rasti organizes weekly open skill practices. Together with Kontiolahden Urheilijat, Liperin Taime, Joen Suunta and Selkien Sisu they organize recriational courses twice a week. For children, Kalevan Rasti's Ketunlenkki provides a safe start for orienteering hobby. The safe courses are designed into easy terrains so that the shortest (1km), route can be walked even with trollers.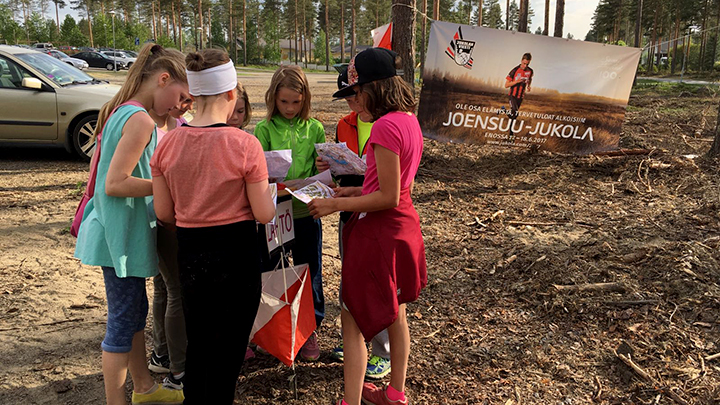 Kalevan Rasti helps schools to organize meaningful orienteering education. In the picture students from Kylmäojan koulu in Kontiolahti during their sport afternoon in May 2016.
You can follow Kalevan Rasti: