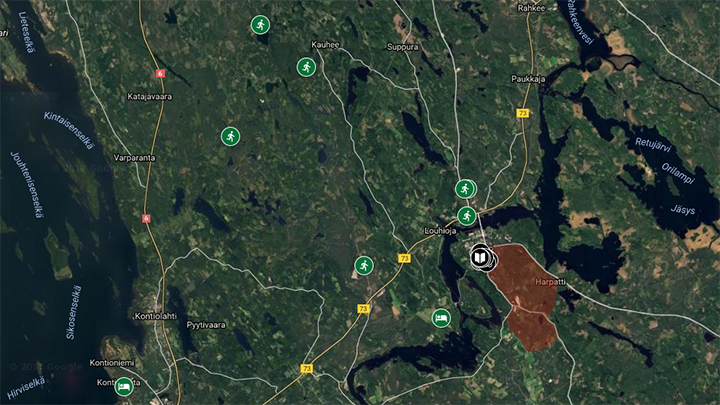 Location of the parkings and accomodations: Google Maps.
The competition terrain is embargoed until 18th June 2017. Many new maps have been made for Jukola training, in terrains similar to the competition terrain. Trainings are available from May 19 to June 30. There are control flags and reflectors in all trainings (excluding Murhakallio relay training with 10 cm wide plastic "Stora Enso" -tapes and reflectors).
1. Pörövaara middle by Mari Väänänen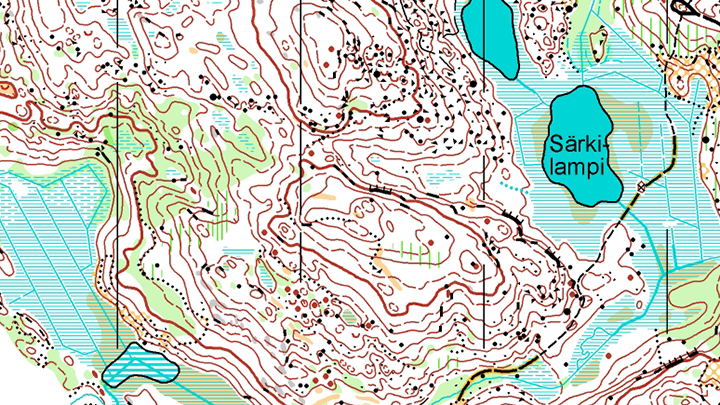 Forested hills and wilderness near the Kolvananuuro gulley. In many parts similar to Harpatinvaara competition terrain. Map by Jussi Silvennoinen May 2016. You can find Hautajärvi lean-to shelter with open fire and swimming opportunities near the parking space. Middle distance 6,0 and 4,3 km.
2. Murhakallio relay training by Thierry Gueorgiou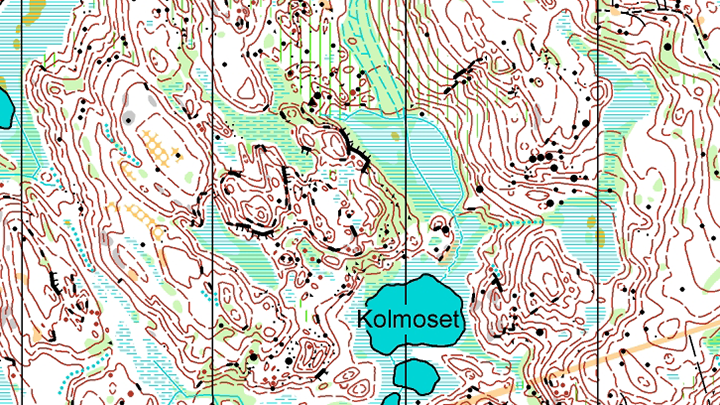 A challenging terrain with a lot of hills. Located along Heinävaara-road. Young pine forest, good runnability. In many ways similar to Joensuu-Jukola terrain. Map by Börje Vartiainen May 2016. Relay training 4 x 1,8 km. 10 cm wide plastic "Stora Enso" -tapes and reflectors on controls.
3. Vallisärkkä relay intervals by Jan Procházka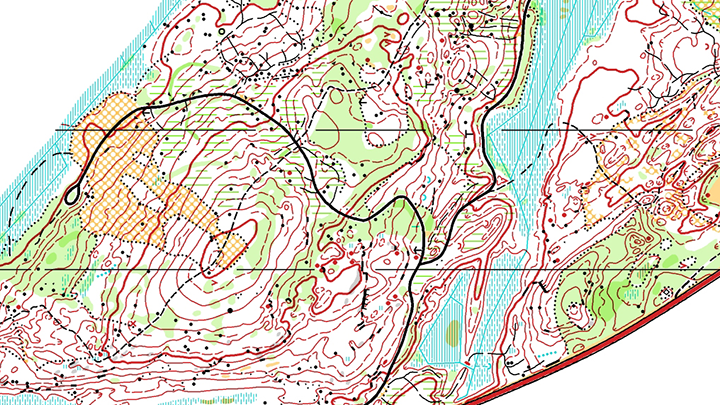 In the northern part you can find Karhuvaara, which is quite similar to Jukola terrain.  Map by Jussi Silvennoinen June 2016. Relay training 5 x 1,3 km.
4. Tannilanvaara relay training by Santeri Silvennoinen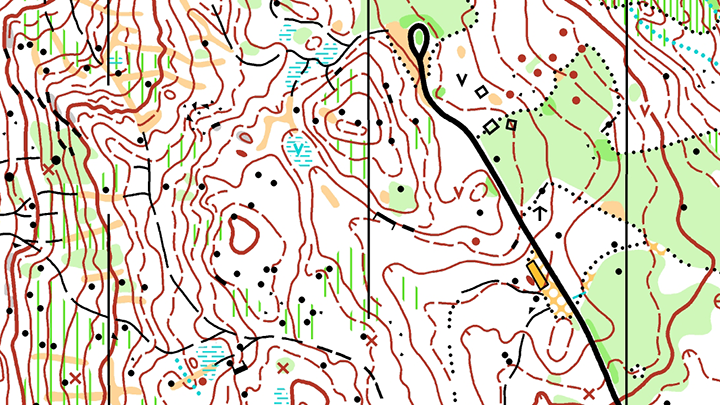 Forested hills with spruces, large features. Big hills with partly limited visibility.  Map by Jussi Silvennoinen October 2016. Relay training 5,2 kilometers.
5. Kauhee route choice training by Aaro Asikainen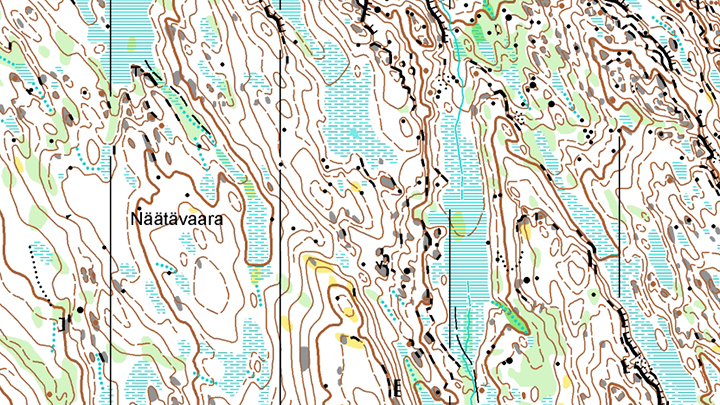 The name of the map, Kauhee, means "horrible", "terrible". And that says it all. Very challenging, if contour reading isn't one's strength. For a skilled, fit runner close to paradise. A beautiful, higher area, just like Koli, but more wilderness. The map has been made 2001, updated 2015. Courses 9,0 km, 5,7 km and 3,2 km.
6. Kuusoja recovery training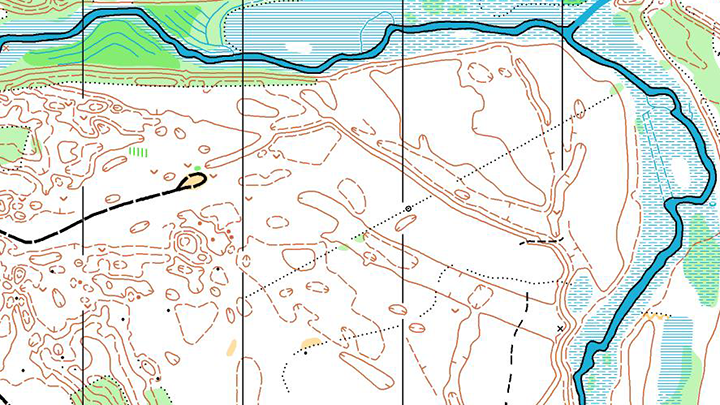 After a tough training day one can go to Kuusoja for some recovery. Kuusoja is full of fast pine forest, runnability excellent, mostly flat terrain. Map by Rauno Asikainen and Jussi Silvennoinen, updated 2016. Course 5,5 km.
7. Model orienteering
A new map will be drawn in spring 2017 for the model orienteering, near the competition center. This map will be available from 15th June 2017.
27.5. short long distance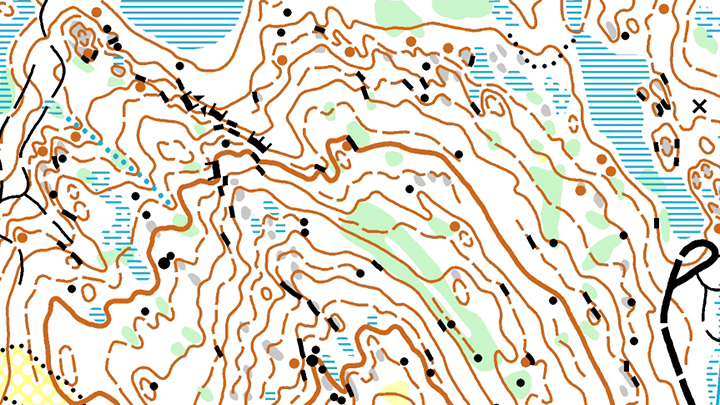 Short long distance in forested hill terrain. H21 expected winning time 50-55 min. Map by Jussi Silvennoinen. Info: Liperin Taimi Suunnistus.
28.5. middle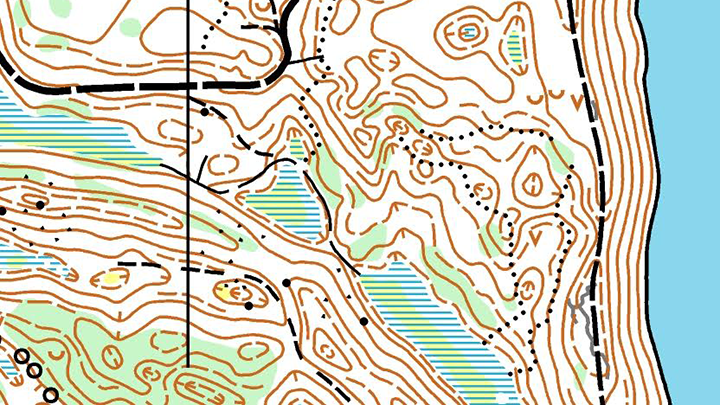 Middle in depression terrain. Map by Jussi Silvennoinen. Info: Ilomantsin Urheilijat.
3.6. relay training by Liperin Taimi 
A mass start relay trainings in the 27.5. competition terrain. Day 20.oo and night 23.00. Courses 5.8 km. Registration and info on Liperin Taimi. Contact  Erno Aalto +358 045 644 0988, aaltoerno@gmail.com.
Training packages and accommodation possibilities
A print-out map, size A4, costs 7 euros. Order form
Maps: Secretary General Sami Leinonen, 050 557 8003, sami.leinonen@jukola.com
Training management:  Santeri Silvennoinen, 050 543 7333, santeri.silvennoinen@gmail.com
The best accommodation alternatives for a Jukola training camp:
A Koli Freetime
B Sport Bed Oy
C Kokkolan Erä ja Matkailu