Price list
Main Restaurant Menu
| | |
| --- | --- |
| Pasta Bolognese with meatballs (L) | 11€ |
| Finnish potato hash (L,G) | 11€ |
| Chicen curry with rice (L,G) | 11€ |
| Vegetarian: Vegetarian curry with tofu and rice (L,G) | 11€ |
| Chicken soup (L,G) | 8€ |
| Dishes include salad and grated vegetables, bread and water. | |
Porridge bar
Breakfast
(incl. porridge, bread, spread, cheese, cold cut and coffee/tea and fruit juice
8€
Porridge
3€
Coffee / tea
2€
Cafè
| | |
| --- | --- |
| Coffee / tea | 2€ |
| Hot Chocolate | 3€ |
| Juice boxes | 1,5€ |
| Soft drinks | 3€ |
| Water / Sparkling water | 2€ |
| Buns / Danish pastries | 2,5€-3€ |
| Sandwiches | 5-6€ |
| Pre-made salads | 8€ |
| Fruit | 1,5€ |
| Candy bars | 2€ |
| Bags of sweets / nuts | 3€ |
| Oat drinks | 3€ |
Street Food points
American Burger Food Truck (L)
| | |
| --- | --- |
| Cheese Burger | 11€ |
| BBQ-Bacon Burger | 13€ |
| Chilli Burger | 13€ |
| Vegetarian Burger | 11€ |
Kanavaanari Food Truck (L, also glutein-free dishes)
| | |
| --- | --- |
| Original Chicken Burger | 12€ |
| Garlic BBQ Chicken Burger | 12€ |
| BBQ Wings | 10€ |
| Fried Chicken Platter | 13€ |
| Fresh Chicken Salad | 10€ |
Street Pitas Food Truck (L, also gutein-free dishes)
| | |
| --- | --- |
| Black Angus Kebab Pita/Salad | 12€ |
| Chicken Kebab Pita/Salad | 11€ |
| Falafel Pita/Salad | 10€ |
Butcher HotDogs & More (L)
| | |
| --- | --- |
| Artisan hot dogs, 5 different delicious hot dogs | 8,5€ |
| Meat platter | 14€ |
Kalaravintola – Fish restaurant (VL)
| | |
| --- | --- |
| Fried vendace from Kuusamo | basket 8€, meal 10€ |
| Salmon with Aura blue cheese meal | 13€ |
| House salmon with peppery twist meal | 13€ |
| Chef's fish platter | 15€ |
| Fish & Chips | 12€ |
The (G)rilli (L, G)
| | |
| --- | --- |
| Sausage and potatoes | 8€ normal/10€ large |
| Kebab platter | 8€ normal/10€ large |
| Chicken wok with fruit | 8€ normal/10€ large |
Beanit Burgers & Bowls Vegan restaurant (M, also glutein-free dishes)
| | |
| --- | --- |
| Korean BBQ burger | 12€ |
| Original Härkis burger | 12€ |
| Korean BBQ beanit bowl | 12€ |
| Sweet & Sour beanit bowl | 12€ |
Grilled sausage point (L, G)
Restaurant introductions
Main Restaurant
The main restaurant serves delicious traditional home-style food to competitors and other people enjoying the relays. The menu includes pasta Bolognese with meatballs and Finnish potato hash. If you prefer chicken, there is chicken curry with rice. The vegetarian option is vegetarian curry with tofu and rice. The soup lunch is chicken soup.
The porridge bar offers a hearty breakfast set or just porridge. In addition, there is a café offering many choices to Jukola-goers.
Street Food village
American Burger Food Truck
Large, juicy and delicious American-style burgers are here! Our Food Truck serves at the Jukola Relay the best flavours of the US in between a delicious bread roll baked by a small bakery and the largest Finnish pedigree beef burger patty. The menu of our Food Truck includes the hot Texas-style Chilli Burger, the BBQ & Bacon Burger made according to the grilling traditions of the deep south and the Veggie Burger, including a hand-made falafel patty, inspired by the food trends of New York. Our hefty burgers will keep both competitors and spectators going all night!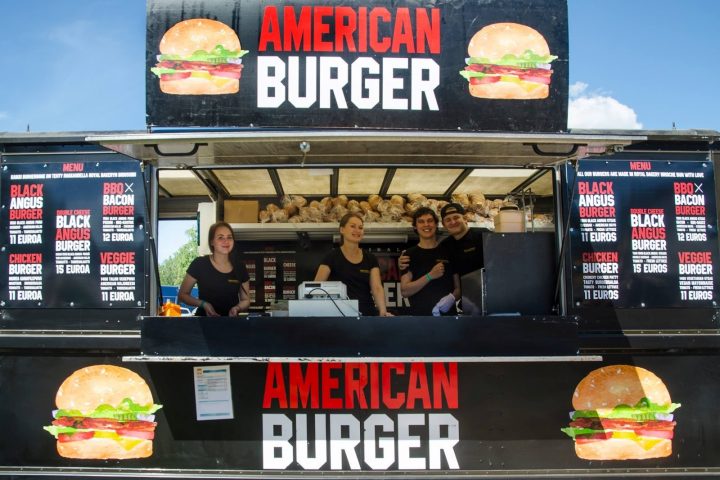 Butcher's Hot Dog and More Food Truck
We at Butcher's wanted to demonstrate that a hot dog can be much more than just a hot dog! We wanted to show that a hefty hot dog is more than a snack – it is big and has no shortage of toppings and the flavour can be anything from French cuisine to Asian kitchen! So, we decided to make a set of new hot dogs that would honour the culinary traditions of different parts of the world while still respecting the New-Yorker roots of the dish. Each hot dog starts with a bread roll baked especially for us by a small bakery in Tampere. We prepare the toppings by using only the best Finnish meat and sausages and other fresh and high-quality ingredients. We encourage each Jukola Relay visitor to test these new-era hot dogs!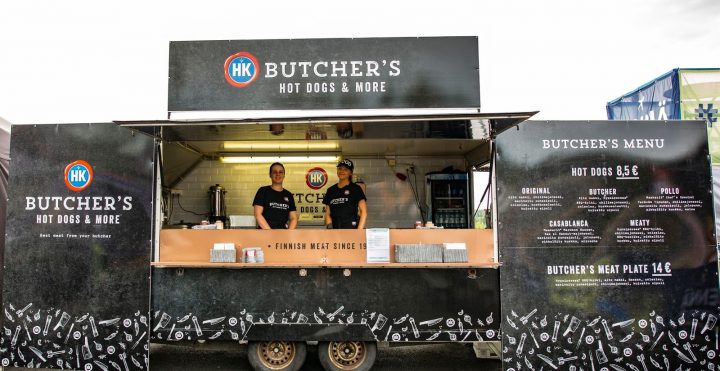 Nordic Kalaravintola/Fish restaurant
Nordic Kalaravintola serves catch from thousands of lakes and the archipelago. The menu of our fish chefs includes classic salmon and fish platters served with seasonal vegetables and Parisienne potatoes, irresistible vendace fried in butter and the traditional English fish 'n' chips.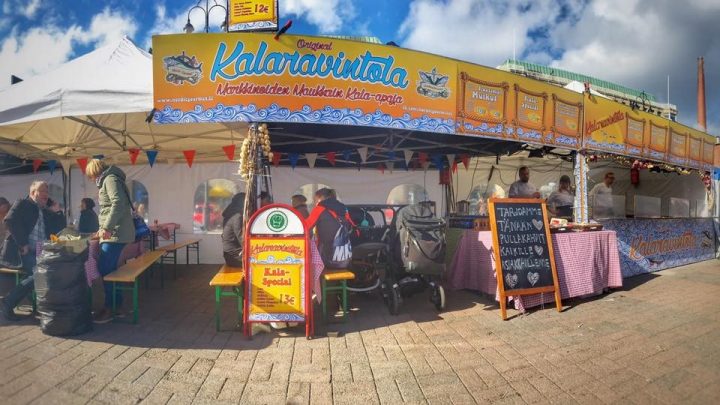 The (G)Rilli
It's time to (G)rill! In the traditional style with lots of love! The (G)Rilli serves sausage and potatoes, chicken baskets and kebabs to the hungry Jukola-goers! It makes no difference if you are feeling a bit peckish or hungry like a wolf, you will leave us with a full stomach, and we are happy to serve bigger groups! And what's best, our meals are completely gluten-free!
Grilled sausage point
A lovely summer evening is nothing without the gentle rustle of leaves and a steaming-hot sausage straight from the grill! Our sausage grill serves the favourite sausages of the Finns and a set of new sausages directly from the grill served with ketchup and mustard.
Kanavaanari Food Truck
Kariniemen Kanavaanari Food Truck serves chicken dishes with a completely new twist. The food truck serves chicken lovers a selection of the most delicious chicken dishes, big and small, always prepared with 100% of Finnish chicken. The menu includes juicy chicken burgers prepared with artisan brioches, finger food and fresh chicken salads served with the house dressings and dips.
Street Pitas Food Truck
Street Pitas Food Truck serves flavours of the Greek Archipelago bringing a small oasis to the midst of Kangasala summer. Our street food truck serves Mediterranean-style chicken in a delicious artisan pita bread, juicy kebab and delicious falafel with fresh vegetables and herbs and hand-made sauces.