Training maps
There are five different maps available for training. The controls are marked by orange/white control markers and eflectors in the terrain. The courses are planned by Kimmo Juvonen.
The terrains are located close to the Valio-Jukola terrain in Vantaa, Kerava, Sipoo, and Helsinki. All the terrains of the trainings are somehow similar to the Valio-Jukola terrain.
Maps are good quality printed maps. Control descriptions are printed onto the maps. Maps are not provided in plastic pockets, use your own.
Trainings 1-3 can be done 21.4. – 16.6.2012. Trainings 4-5 can be run only 1.6-16.6.2012. In other times training is forbidden due to the protection of nature. Maps for trainings 4-5 are sold from 28.5. on.
Prices
Printed maps: 5€/map
Mailing: 5-10€/order
Maps  can be ordered from Jukola-office 050 444 0296 and bought in Info from Friday 10 am onwards
Road signsThere are no road signs. DON'T LEAVE VALUABLES IN THE CAR. SOME CARS HAVE BEEN CRACKED ON KNUTERSINTIE.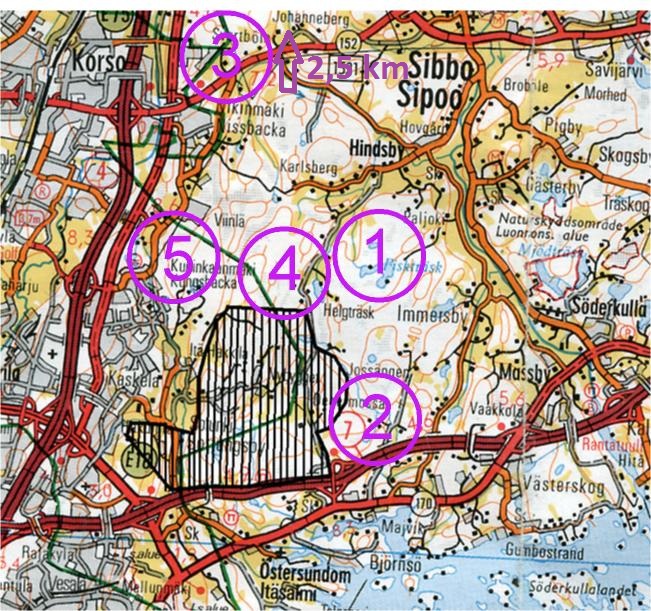 Training maps
Fiskträsk, SipooLong distance, 8,9 kmParking on a field at Knutersintie, about 7km north from Porvoon moottoritie
Landbo, Helsinki (south-east from theValio-Jukola competition terrain, between Porvoon moottoritie and Knutersintie)Relay, 5,9-6 kmParking shown on the training map
Keinukallio, KeravaPlenty of controls, 6 kmParking at Keinukallio recreational area(Keinukalliontie)
Trainings 4-5 only 1.6. – 16.6. 2012
Bakukärr,Vantaa/Sipoo(north from theValio-Jukola competition terrain)Relay 4-5 km

Parking at the parking place in Knutersintie, 4,5 km north from Porvoon

moottoritie

Kuusijärvi, Vantaa(north from theValio-Jukola competition terrain)Long distance, about 9 kmParking at Kuusijärvi recreation area (Kuusijärventie 3)
Forbidden area
The forbidden area is shown in the map below. The area of the Hakunila Recreation Park (west from Sotungintie) will be embargoed area from the 15th of April 2012 onwards. For a relay competitor it is then forbidden to enter this area.