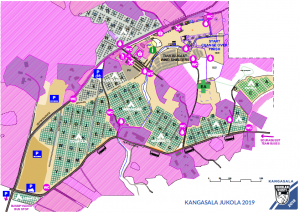 1. Tent pitches
Ten pitches must be booked through the online registration system by 29th May 2019 at the latest.
The size of one tent area is 10 x 10 m. The areas located in the field. The camping areas are located approximately 300 to 1200 meters from the entrance to the exchange area. Payment must be made in full before you are able to choose a suitable pitch.
The camping areas can be seen from the map above. The tent location code consists of the first letter of the area name, the block and the tent number (e.g. the code MB02 means that the tent is located in the area called Männistö, at block B, tent place 2).
2. Team tents
In addition, the organizers will provide approximately 396 non-heated team tents which can accommodate up to 16 people. These tents are located at maximum of 200-600 meters from the gate of the start and changeover area. These team tents are to be booked per tent.
Foreign clubs book and pay for the team tents through the electronic enrolment system together with their entry at latest on May 9th, 2019. Any tents that remain available after that time can be booked by Finnish teams by sending an e-mail to toimisto.2019@jukola.com.
3. Wind shelter tents
Wind shelter tents map.
Wind shelter tents must be booked through the online registration system by 29th May 2019 at the latest.
Competing clubs have an opportunity to book a place for a wind shelter near the changeover and finish area. There are in the field and There are approximately 280 wind shelter places. All competing clubs making an entry for at least eight teams (Jukola and Venla combined) will have the right to book two wind shelter places. The top 50 teams from Jukola 2018 have the right to reserve wind shelter places 1-50. Booking and payment must be made by 31st of January 2019. Use of wind shelters tents as overnight accommodation is strictly forbidden.
4. Campers and caravans
Parking and accommodation areas for campers and caravans are located up to 2800 meters from the competition center. Places are limited and distributed in the order of registration. Places must be reserved and paid in advance through the registration system. The exact parking space will be provided upon arrival. When arriving, you must follow the organizer's directions.
5. School floor accommodation
There are a limited number of school floor accommodation places available. These are located about 12 km from the competition center. School floor places must be booked and paid in advance through the online  registration system by no later than 9th May 2018. There will be paid shuttle bus from accommodation to the competition center Friday-Sunday.