Ari Anjala route selection solution: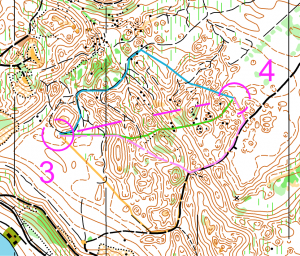 The violet dotted line is the most widely used, clear and sound route choice. In a clever forest and rolling hills, the familiar green line is probably the fastest. The yellow running route is perfect for both experienced and inexperienced orienteerers . The turquoise line is an another alternative which is a compromise of all the other options.
Minna Kauppi's route-choice with reasoning and tips: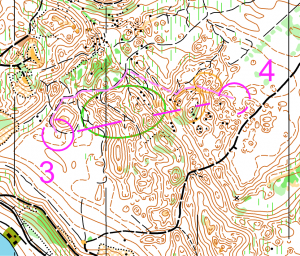 My own choice would be the left sided route, as the first half of the route has smooth paths, created by forest machinery, which are to the left side of the large pot-holes. The tracks also make progress, and orienteering  to the next check-point easier. The route to the right would be quicker and easier but the route you would need to take to get onto the main path, avoiding the large pot-holes, would make this option too long.
By following the small tracks I can easily avoid the biggest pot-holes (circled in green) whilst I can still use the clear contours of the terrain to help me navigate. I would then take a route directly towards the next check-point which takes me past the three smaller pot-holes (the upper yellow circle) that then leads me straight to the small hill where the next check-point is located.