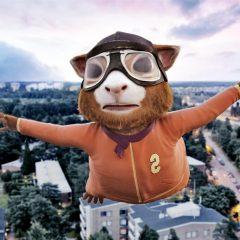 In the children's world, there is a meaningful, fun, versatile, guided and safe way for children and teenagers participating in the event. For the smallest family, there is a possibility for changing diapers, washing and for heating baby food.
Children's World Opening Hours:
Saturday 16.6. 10-21
Sunday 17.6. 8-12
Guided activities are open:
Sat 11-20 and Sun 9-12
Location:
The world of children has a dedicated terrain where all the activities are built. The exact location of the area is shown on the Arenas map (number 20). The area is located between the party platform and the trading area. The children's world also has its own service tent and LAMK's Linkku library car, for story telling.
Activities:
The functions are both self-contained and guided. In the world there is a labyrinth, a playground for ball games, laser shooting with an Eko-gun, sumo wrestling, giant slingshot shooting, sense track, orienteering, drawing wall, face painting, crafting and story telling. For all ages there is a meaningful activity for the whole weekend.
Supermarsu will appear on Saturday 16.6. Children's World three times: 12:00, 14:00 and 16:00.shooting,
The activities of children's world offers:
MLL Hollola
Hollola parish
Salpaus Further Education
LAMK
Hollola Scouts
HU-46 & Lahden Suunnistajat 37
In total, more than 60 people take care of the fact that everyone in the world of children in Lahti-Hollola Jukola thrives with all future planers.