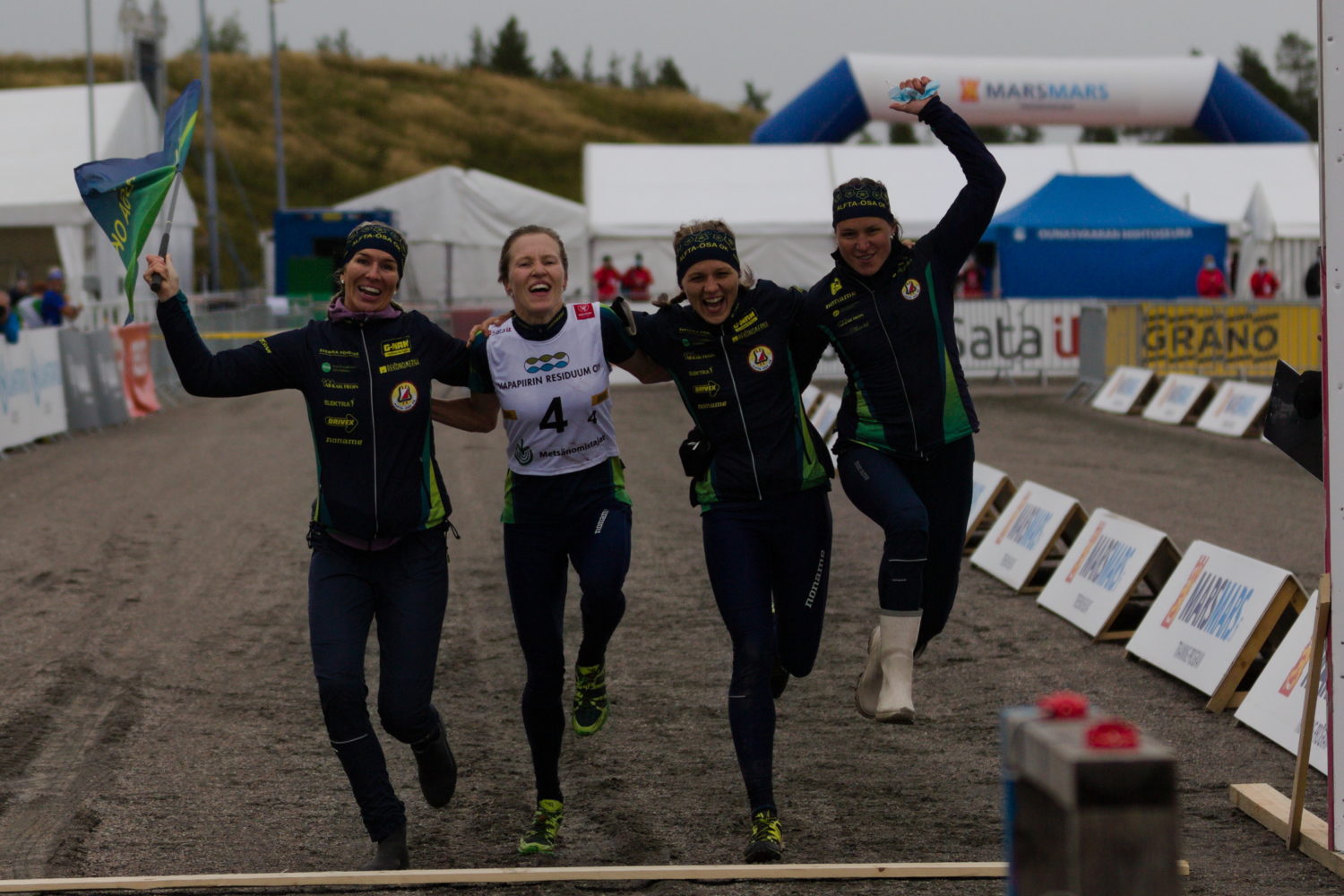 The 2021 Venla relay came down to the final leg, which the top five teams started within 48 seconds of each other. In the end, it was the Swedish Alfta Ösa who managed to snag the victory, thanks to a spectacular performance by anchor Natalie Gepberle. IFK Göteborg took the silver medal, and Järla Orientering finished with the bronze. The top performer among the Finnish teams was Tampereen Pyrintö, who finished fourth.
At the start of the final leg the top teams were neck and neck. Gemperle from Alfta Ösa started in the lead, with the chase group of Ok Pan Århus, Tampereen Pyrintö, and surprise team Hiidenkiertäjät coming to the changeover just 34 seconds behind Alfta Ösa. OK Kåre changed fifth 48 seconds behind the lead, and IFK Göteborg was sixth, 1 minute and 57 seconds behind.
The final leg saw some exciting events. There was a momentary lead change as Simona Aebersold from Tampereen Pyrintö took the lead for a while. Unfortunately, Aebersold struggled after the third control and got lost in the marsh, which ultimately led to Tampereen Pyrintö finishing fourth overall. 
The deciding moments in the relay were between 4,8 and 7 kilometers, where the top teams had different route choices. Natalie Gemperle from Alfta Ösa ran the stretch perfectly and managed to grow their lead to 1 minute and 35 seconds over the second-place Sara Hagström from IFK Göteborg. Tampereen Pyrintö, OK Kåre and Järla Orienteering came to the next control as one group, 1 minute and 51 seconds behind the leader. Meanwhile, Annika Rihma from Hiidenkiertäjät dropped to sixth-place, trailing by 3 minutes and 31 seconds.
Gemberle finished strong, and won the relay with a lead of 2 minutes and 46 seconds over Sara Hagström and IFK Göteborg, who finished second. The third-place Järla Orientering's anchor Karolin Ohlsson crossed the finish line just three seconds after second-place.
– I love Jukola, and running in front of an audience like this feels incredible, the overjoyed Gemperle told Yle.
One of the biggest surprises of the relay was the team Hiidenkiertäjät, who finished sixth. They had a large starting number, and didn't have the GPS on them during the first three legs, meaning that they weren't expected to be fighting for the win today. The organizers reacted to the team's success, and the team's anchor Annika Rihma did have the GPS with her during the final leg.
See the results here: https://online.jukola.com/tulokset-new/