We welcome you to train in the all-new training areas at the Arctic Circle Jukola!
Trainings
First five training areas are open again from 8th June 2021.  Look at the map on Google Maps for the open training areas.
Trainings 2021
H1 2021 Ounasvaara 
Planned raining: long distance, 9,8 km.
Mapping: Matti Kivelä
H2 2021 Kuninkaanlaavu 
Planned training: long distance, long one 10,8 km and short one 5,2 km.
Training will be renewed on Mon 16th August until Sat 21st August. New training is long distance trainig (10,3 km) mostly in the same terrain as before. Start, finish and parking will be moved to different place. Please, check destination guidelines from Google Maps (available on Mon 16th August).
Mapping: Matti Kivelä
Note! On Mon 16th August onward
It´s forbidden to move and run outside the training map area, except the road which will lead to the training map and start.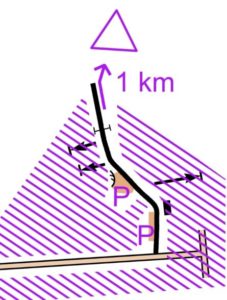 Parking place is located on the military area and there is also shooting range. Moving is just aloud on the terrain which is shown on the training map. Moving from the parking place to start and from finish to parking place have to be done by using only the road.
There will be shooting rehearsals on the shooting range, but it won´t cause any danger for runners/orienteers.
If possible, please, training should be avoid
– on Wednesday 18th August and on Thursday 19th August at 7-9 pm
– on Saturday 21st August at 10am – 3pm
There is no shooting rehearsals between 9pm – 7am.
Training will be closed on Saturday 21st August at midnight, after closing time of this training, moving on the terrain/area is forbidden.
H3 2021 Hiidenkirnut
Planned training: middle distance, 5,5 km.
Mapping: Matti Kivelä
H4 2021 Kroopinpalo
Training in versatile terrain of Kroopinpalo, length of course 9,1 km.
Mapping: Jussi Silvennoinen ja Matti Kivelä
H5 2021 Sarrioselkä
Planned training: middle distance, 8,0 km.
Mapping: Matti Kivelä
Maps
All maps are in scale 1:10000 / 5 m. Map sizes A4. All training maps are updated in 2021. Courses have been made by course setters of Arctic Circle Jukola 2021.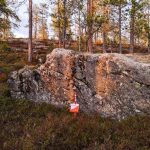 Price
Price is 7 €/pcs. If more than 10 maps, price 5 €/pcs. Order of more than 30 maps should be send three (3) days in advance by email sami.leinonen(at)jukola.com. Please, inform also the place where you will pick up the maps.
Sale
Sale and pick up of training maps from reception of Santasport (Hiihtomajantie 2) and from cash desk of petrol stations of Shell Erottaja 24h (Hallituskatu 22) and St1 Saarenkylä (Napapiirintie 2).
A need for the rental car? Partner of Arctic Circle Jukola, Europcar, will help you!