Alternatives for accomodation:
Hotel Loimu, Raisio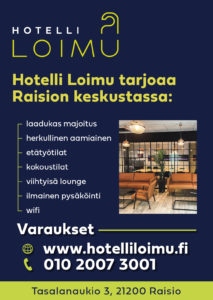 Operating with a modern concept, the hotel guarantees its customers a fast and flexible booking combined with personal service and a wide range of services. With the help of the door code, you can enter your room at a time that suits you and avoid queuing at the reception. Hotel Loimu does not have a reception desk, but our customer service will be happy to advise you 24/7 on +358 10 2007 301. The room rate includes a delicious breakfast, free parking and Wi-Fi. Reservations conveniently at www.hotelliloimu.fi.
When booking your accommodation, remember to fill in a campaign code JUKOLA22 to receive a 5% discount of your booking! The code is valid even with bookings made by phone – if you remember to mention it..
Fishing- and Holiday Village Merikoivula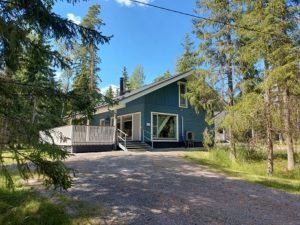 8 Villas with sauna for 8 persons, 4 twin rooms, fully equipped kitchen, Kamado Joe grill on the terrace of each villa. 7 have cloth dryer cabinet, one comes with accessible ground floor.
6 Summer Cottages for 1-4 persons with kitchenette (New WC and shower facilities in the separate building next door)
Coast cottage Holm2 for 5-6 persons (wood-heated sauna, no shower)
Marina with motor- and rowing boats for rent.
The meeting room for 60 persons.
Two saunas – a sauna for 15 people in connection with the meeting and an eight-person sauna Holm.
Two Set & Match acrylic-coated and fence-surrounded tennis courts, a football and volleyball court, children's playgrounds, and a power court.
Reservations: www.merikoivula.fi/en/
Facebook: https://www.facebook.com/kalastuskeskus
Instagram: https://www.instagram.com/merikoivulalomakyla/
Address: Koivulantie 198, Lokalahti
Uusikaupunki 23450
Reservations: 040 152 0500
e-mail: info@merikoivula.fi
www.merikoivula.fi
Latitude 60.731723384777965
Longitude 21.384993227599672
Sokos Hotel Kupittaa


The modern and extraordinary Original Sokos Hotel Kupittaa is the ideal location to eat, meet and spend time. It is the new and vibrant heart of Kupittaa, a fast growing area in Turku. There is a direct connection to the hotel from the train station and you can drive from the main streets directly to our parking facility. Enjoy a hearty breakfast or lunch, pop in for a drink after work or spend a leisurely evening in the atmospheric Elli Bistro.
ACCOMMODATION 2022
15.06.2022 – 19.06.2022
Hotels and special rates:
Original Sokos Hotel Kupittaa
Joukahaisenkatu 6, 20520 Turku
Room rates:
76.00 EUR / Standard single room
96.00 EUR / Standard double room
Rates include buffet breakfast (VAT 14%) and room VAT (10%). The number of rooms with special rate is limited.
Bookings
Bookings are made directly from our website www.sokoshotels.fi and the special rate is available until 13th of May 2022
Choose location and hotel Original Sokos Hotel Kupittaa in the required fields on the left
Write down the booking code BJUKOLA22 to the reservation code field
Search
If available, the special rates will appear in the search results and you can make the booking. Please note that the reservation needs to be guaranteed with credit card details.
Our Sales Office is at your service to help with the reservations from Monday to Friday 08.00 am to 8.00 pm.
Tel. +358 300 870 000, email. sokos.hotels@sok.fi
Payment & Cancellation
All guests pay themselves for the room reservations. Individual reservation can be cancelled until 6 pm. on the arrival day. More information of our hotel: www.sokoshotels.fi
Hotel Havu
Hotel Havu is located next to the center of Uusikaupunki.
In our hotel you will find 24 cozy and spacious rooms. Each of our room is equipped with a balcony or patio.
Room rates:
Single room 85 € / day
Double room 95 € / day
When booking, you will receive a 10% discount on our prices with the code JUKOLA22.
Prices include a delicious hotel breakfast and parking.
Our hotel also has a restaurant Havu, where you can enjoy tasty local food.
Contact info:
+358 44 753 3835
info@hotellihavu.fi, www.hotellihavu.fi