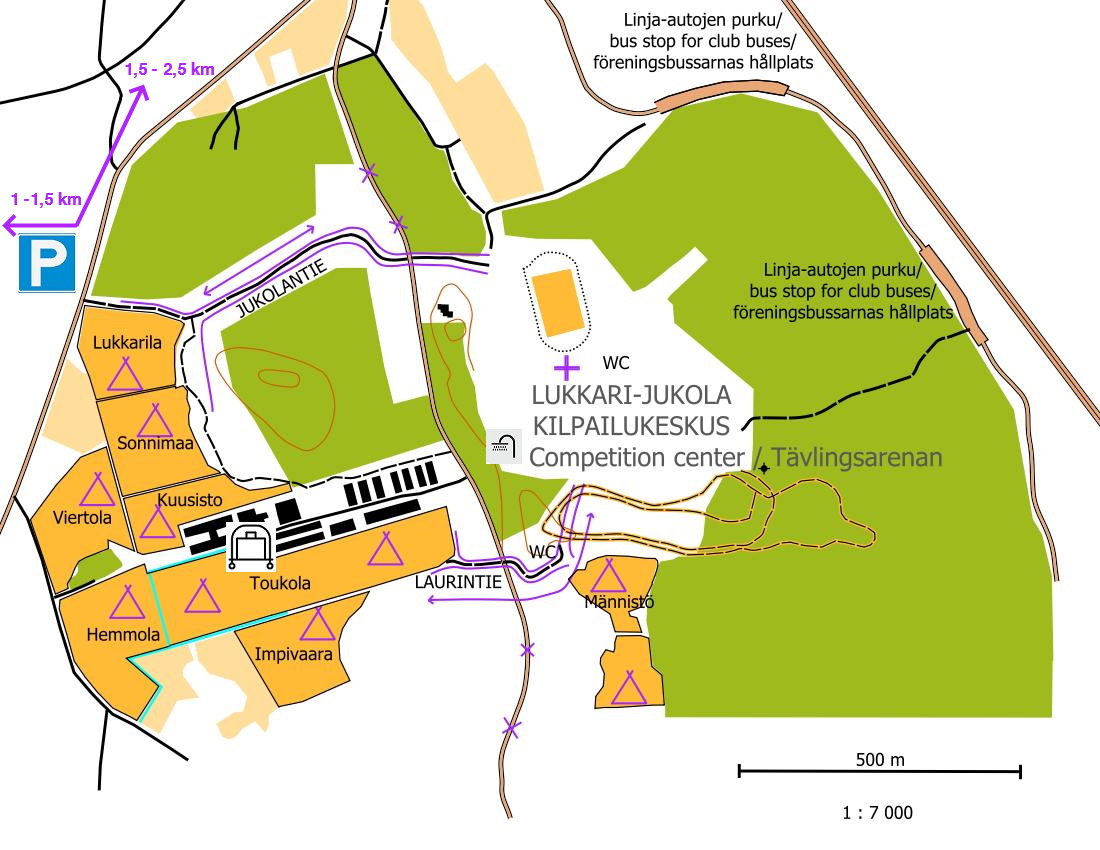 Picture: Accommodation areas near competition center. Equipment transportation close to the tent camping areas (above Toukola) is available on Saturday from approximately 8 a.m. to 1:30 pm.
There are three different options for accommodation near Lukkari-Jukola 2022 competition center:
Tent pitches
It is possible to camp in a tent close to the competition center. Tent pitches are numbered and they must be booked and paid in advance through the online registration system. The size of one tent area is 10 m x 10 m, which means that more than one tent easily fit into one pitch. All tent pitch areas are located on a field.
Detailed maps of tent camping areas
Tent camping area Hemmola
Tent camping area Impivaara
Tent camping area Kuusisto
Tent camping area Sonnimaa
Tent camping area Toukola
Tent camping area Viertola
Team tents for 16 people
Apart from the possibility to camp in your own tents, the organizers will provide 200-300 non-heated team tents which can accommodate up to 16 people. These team tents are to be booked per tent. These tents will be located in tent areas Lukkarila (about 1,3 km from the arena) and Männistö (about 500 m from arena). These tents need to be booked and paid for in advance in the registration system.
Tent camping area Lukkarila
Tent camping area Männistö
Caravans and campers
Parking and accommodation areas for campers and caravans are located about 2 km from the competition center. Places are limited and distributed in the order of registration. Places must be reserved and paid in advance through the registration system. The exact parking space will be provided upon arrival. When arriving, you must follow the organizer's directions. Bicycle parking is located ca. 400 m from arena.
There are 54 places available for camper vans. There are 195 places available for camping trailers. When booking a spot for your vehicle, make sure that you book the correct type.
Prices
10.5.2022
31.5.2022
until 11.59 p.m.
until 11.59 p.m.
ACCOMMODATION FEES
Camping pitch, 10 m x 10 m
35 €
70 €
Tent from organizers
245 €
490 €
WIND SHELTER FEES
Wind shelter pitch, 6 m x 5 m
50 €
100 €
PARKING FEES
Camper/caravan
50 €
100 €
Passenger car/motorcycle
20 € (from the competition centre)
25 € (at the parking area)