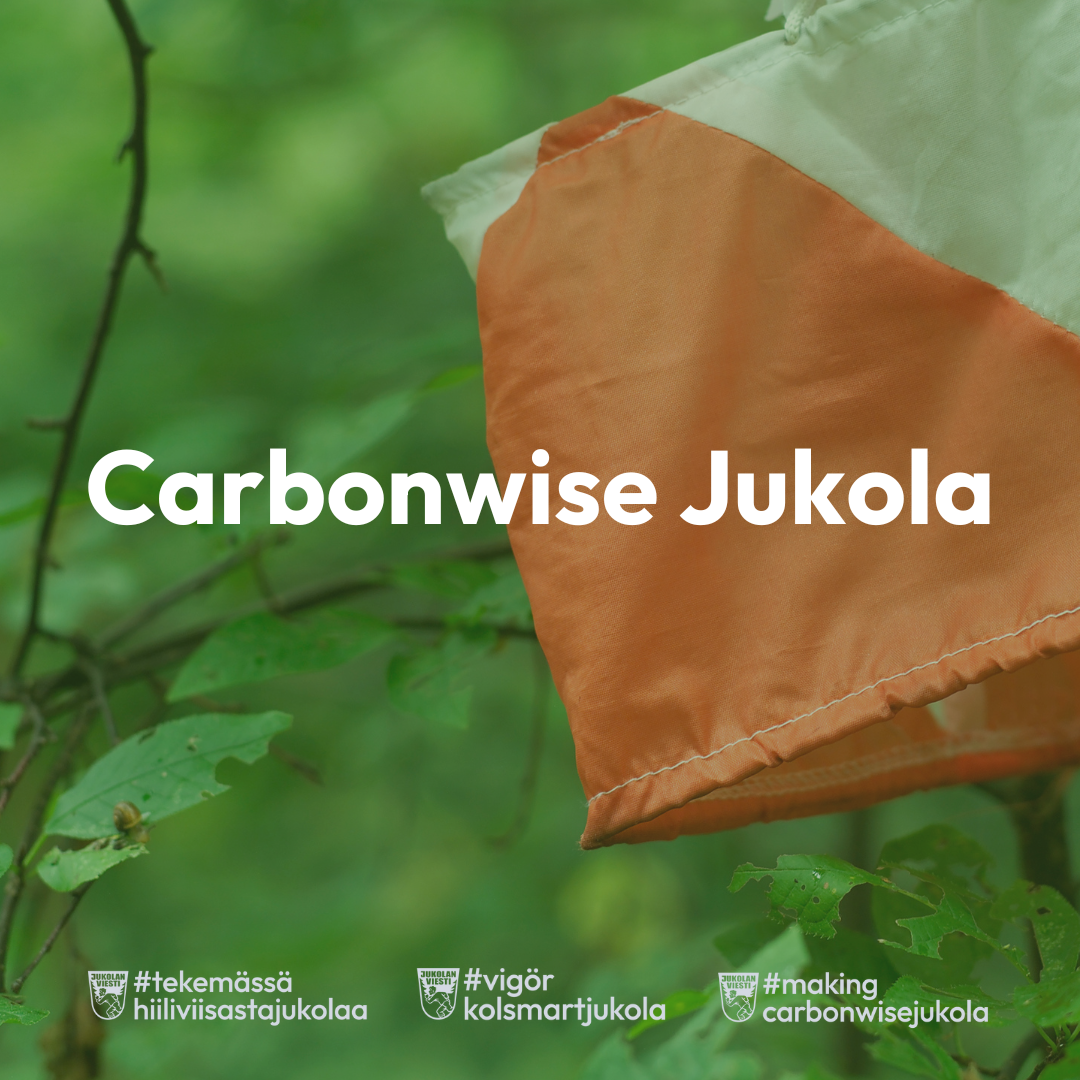 Carbonwise is built with professional expertise and research-based knowledge. The project has been built from the ground up through collaboration, with Ok Trian, Posintra, and Aalto University as the initiators. During the project, these three actors have collaborated by meeting at least once a week to coordinate their efforts and ensure that their practical work and scientific research intersect and follow a common direction to achieve a common goal.
Jukola's committees have gathered to consider their own area and its transition towards a more carbonwise direction. The committees themselves have ideated and decided on actions to achieve the most carbonwise mass event possible. The committees' choices are based on the following themes:
–          Saving energy and shift towards green electricity
–          Increase material efficiency
–          Reduce use of plastics
–          Reducing CO2 emissions
–          Streamlining logistics and influencing mobility
–          Increasing environmental knowledge
–          Reducing the amount of waste
–          Directing procurement towards environmentally friendly direction
You can follow the carbonwise actions of the committees on Jukola's social media and Jukola's website https://jukola.com/2023/en/fromwordstoactions/
For example, recycling and reusing equipment have been emphasized in the preparations for Jukola, and the amount of equipment the Jukola organizers need to move between competition sites has been reduced by a couple of truckloads. Driven by environmental protection, they have considered what is really essential for organizing a good sports event and what is just a remnant or a practice from years ago.
As a result of the project's innovation, electric buses will be used to travel between the competition centre and the centre of Porvoo. This will significantly reduce emissions and reduce traffic congestion! Advertisements will be made from recyclable cardboard instead of plastic panels. The dishes used for meals and the cups used at drink control are also made from recycled cardboard. The selection of vegetarian food will be increased. The competition magazine will be made into a digital version, and only 1500 print copies will be made. Instead of cut flowers, tree plants will be given as prizes and planted in Jukola's memorial forest. One of the most significant actions is also raising awareness and speaking up. Carbonwise thinking and environmental themes are repeatedly mentioned in speeches by the organizers' volunteers. Talking about them and taking them into account produces results when all parties are committed to the same goals, whether it's printing on old maps, arranging carpools, or making purchases.
The competition's deputy director, Jari Johansson, reminds us that it is important to use common sense and make small or significant concrete actions in everyday life, and to record what has been done so that knowledge can be passed on to future event organizers.
During the fall and winter, 10 local businesses have committed to the Carbonwise Jukola project, which aims to create a more carbonwise Jukola and promote more sustainable business practices. The local businesses have increased their knowledge on the subject and worked on reducing their carbon footprint with the help of the local development company, Posintra. You can read about the stories of the participating companies on the official Hiiliviisas Jukola project website at https://posintra.fi/hiiliviisas-jukola/.
The participating businesses have developed a good team spirit, and concrete actions are being taken at the business level throughout the spring, which will be showcased on Jukola's social media and website at https://jukola.com/2023/en/fromwordstoactions/.