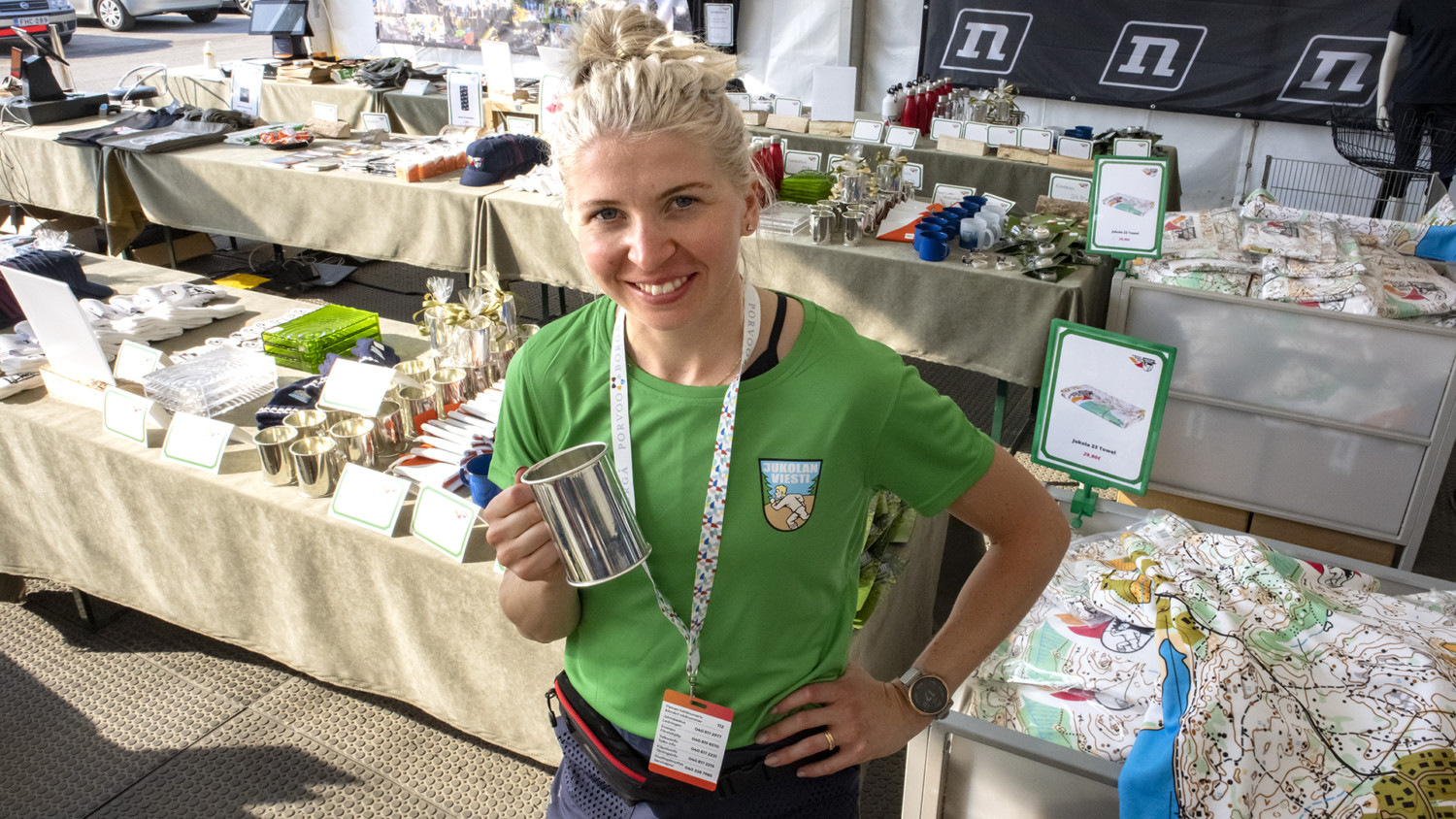 Visitors to Porvoo Borgå Jukola can handily buy souvenirs with Porvoo motifs in the Jukola Shop within the competition area. Middle-distance runner Sara Lappalainen, representing the club Porvoon Akilles, has won several Finnish championships, and now she's selling Porvoo measures and other souvenirs in the Jukola Shop. (Porvoon mitasta linkki aikaisempaan uutiseen Porvoon mitta -uutiseen)
Kari Arponen from the company Noname says that the Porvoo measure was made especially for Porvoo Jukola.
– A village smith in Vähäkyrö made one hundred Porvoo measures of sheet metal on our order, so this is a truly unique product. The measures are predicted to be popular, so you might want to act quickly to get your own.
Sold at the price of 15 euro, the idea behind the Porvoo measure is best grasped by fingering the measures personally at the Jukola Shop. The shop also sells other Jukola products developed by Noname, such as shirts, caps and hoodies.
Colourful products with Porvoo motifs by the local photographer Niko Laurila are another predominant item in the shop. There are tea towels, mugs, jewellery, playing cars, pictures, umbrellas and puzzles – all decorated with photos by him.
Pirjo Sipronen, who sells Porvoo products in the Jukola Shop, says that 31-year-old Niko Laurila began photographing his hometown at the early age of 13. He was chosen Porvoo Inhabitant of the Year five years ago, and Young Entrepreneur in Uusimaa in 2020.
– On Saturday, Niko will be taking pictures at the start of Venla relay. At six, the pictures will be available as postcards in the Jukola Shop, says Pirjo Sipronen.
Niko Laurila's pictures of Porvoo Old Town and the surrounding nature are truly beautiful and their glowing colours are best experienced first-hand.
Text: Markku Pulkkinen
Photo: Mikael Grönroos