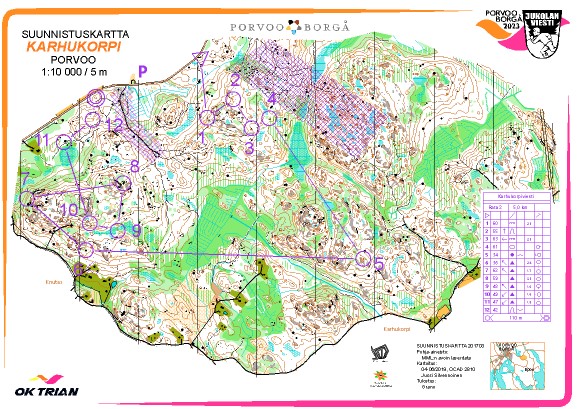 Reminder to orienteering clubs regarding the training terrains and courses for Porvoo Borgå
Jukola.
Training on maps owned by the city of Porvoo should only be used according to the
instructions provided by the Jukola organizers. Only maps obtained from the organizers should be
used for training (with their respective courses and control points). The Jukola organizers have
made agreements on the use of areas and roads, which is why clubs and orienteerers should
follow the instructions. Placing personal control points in the terrain and training on unofficial
training maps and areas should be coordinated with the chairperson of the map and course
selection committee, Pasi Liitiäinen.
Although it may seem like a small issue, it is actually significant in terms of the sport's best interest
and continuity. A single car or a few orienteerers may be interpreted as being within the every
mans rights, but when the land and road owners are aware of Jukola in the Porvoo region, all
orienteering activities are linked to Jukola. Agreements have been made regarding the use of the
terrain and areas where orienteering is not allowed, so it is essential to adhere to the rules.
Let us act sensibly in the sport's best interest, respect the organizers instructions, and train only
where it is allowed. These guidelines should also be kept in mind when training outside your club's
area.
Obtain permits through the club owning the map, so that we can continue to organize
orienteering events in the future.
As Jukola and Venla relays approach, organizers will monitor the use of training maps and areas,
particularly on weekends.
The forest is our arena, so let us take care of it!
Best regards,
Finnish Orienteering Federation and Porvoo Borgå Jukola organizers